News
Noble Equestrian donate 10% of their Black Friday Weekend Sales
Grace Mulligan from Noble Equestrian, accompanied by Simon Grieve paid us a visit on 9th December, where they were able to see the RDA in action. Noble Equestrian have very generously donated 10% of their Black Friday Weekend sales to The Mount Group. Thank you for meeting with us and your kind donation.
Albert Rutledge - Pat Bishop Memorial Award for Volunteer of the Year 2019
Jane Corrall, Regional Chair, presented Albert Rutledge with the Pat Bishop Memorial Award for Volunteer of the Year 2019. Albert was also presented with a superb cake to celebrate the occasion (thank you to Baines, Uppingham).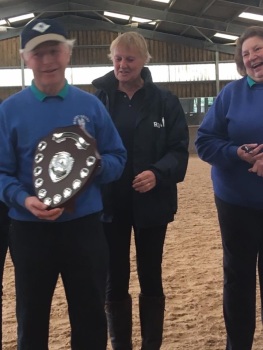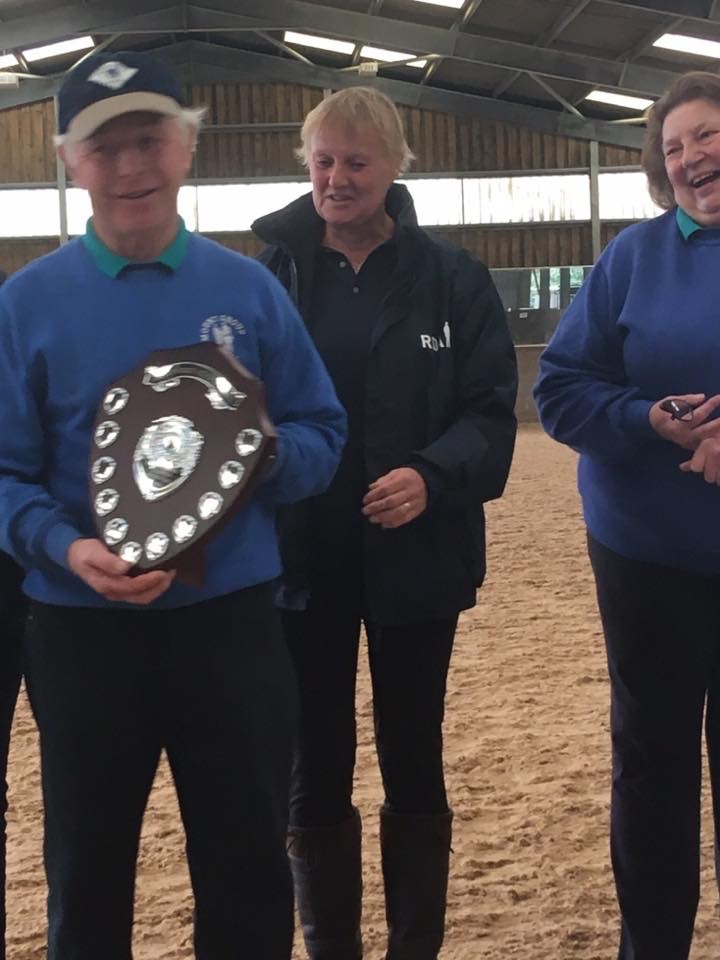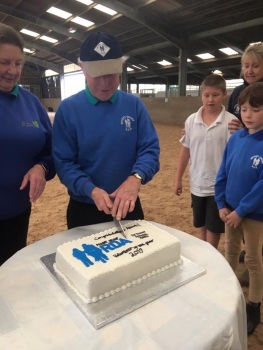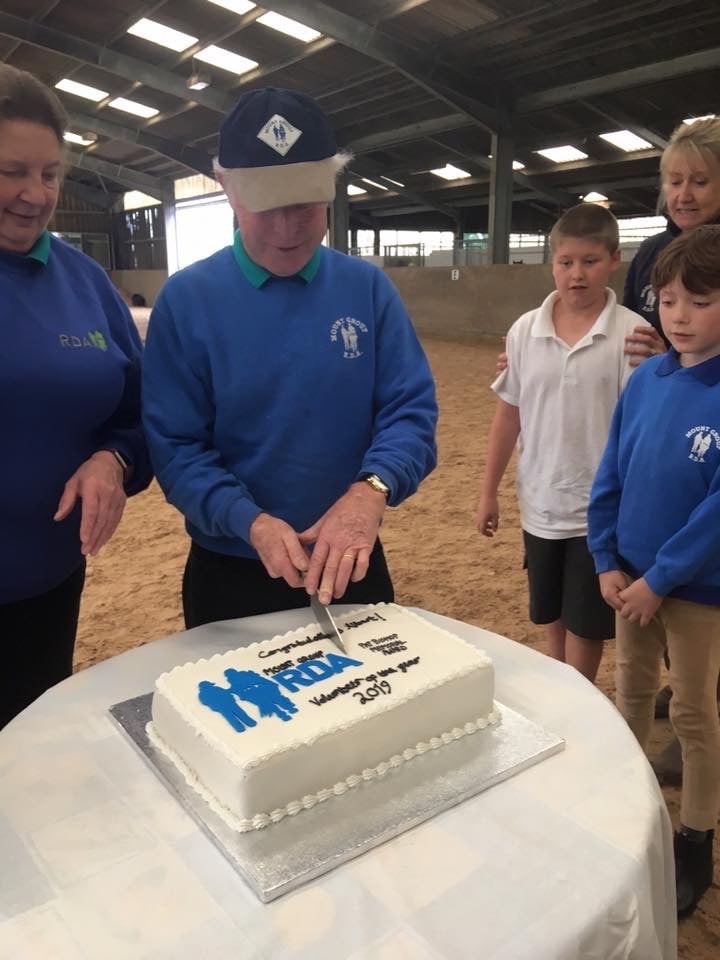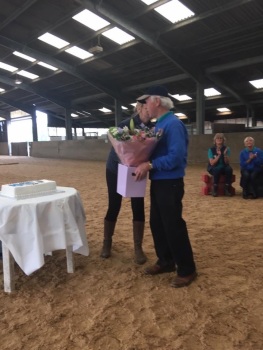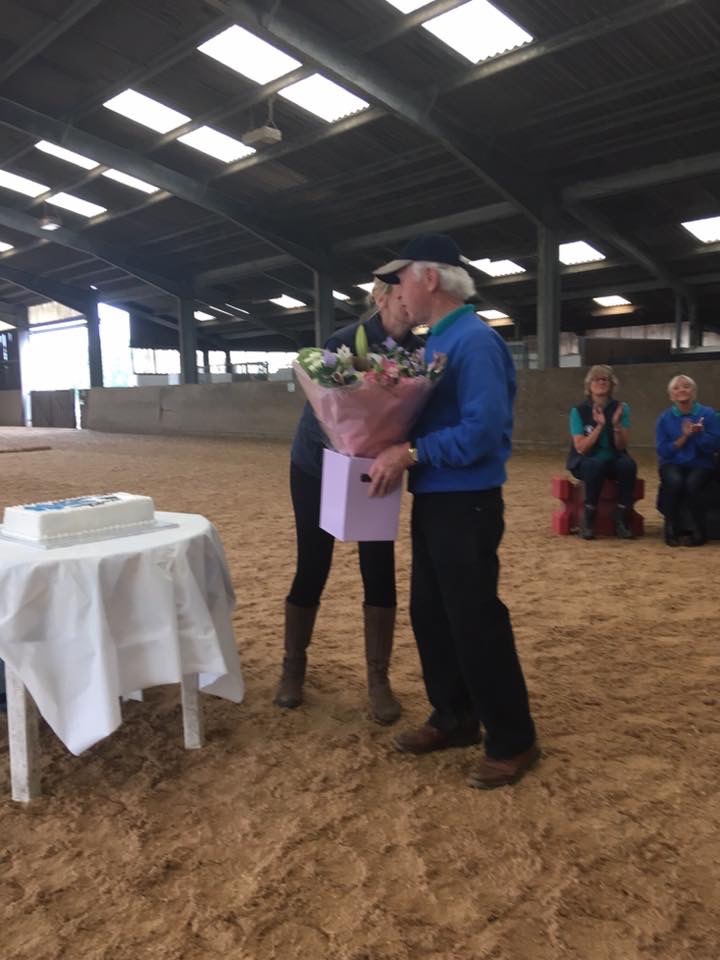 The Trophy now engraved with Albert's name - handed over at the Christmas lunch.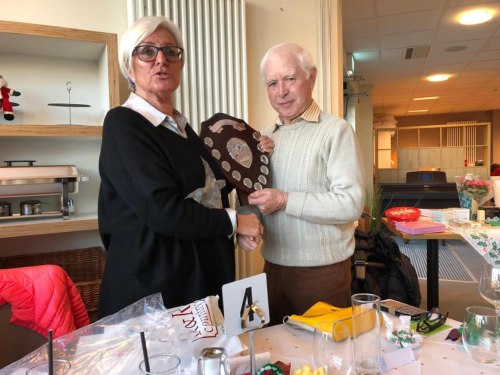 National Championships - Arts and Crafts Category

Two of our riders, Christine and Kate, were presented with prizes and rosettes at the RDA Christmas lunch, for their entries in the National Championships Arts and Crafts Category. Very well done to both!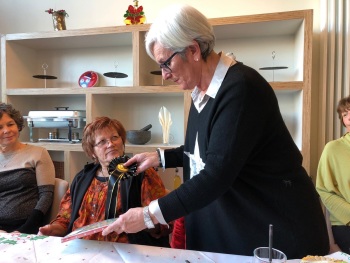 The Gemma McCormick Countryside Challenge - June 2019
The Gemma McCormick Countryside Challenge took place in June 2019. It was a fantastic event that was well attended by riders, helpers/volunteers, organisers and family and friends. We would like to express a huge thank you to Sue Brandon-Smith and all of the volunteers that helped with the organisation of this successful event! We would also like to thank the judges, Karen Thomson and Liz Jones, for doing such an excellent job,
Many lovely pictures were taken on the day - here is a selection. More can be found on our Facebook page.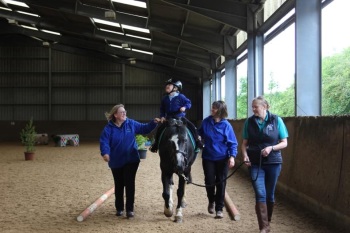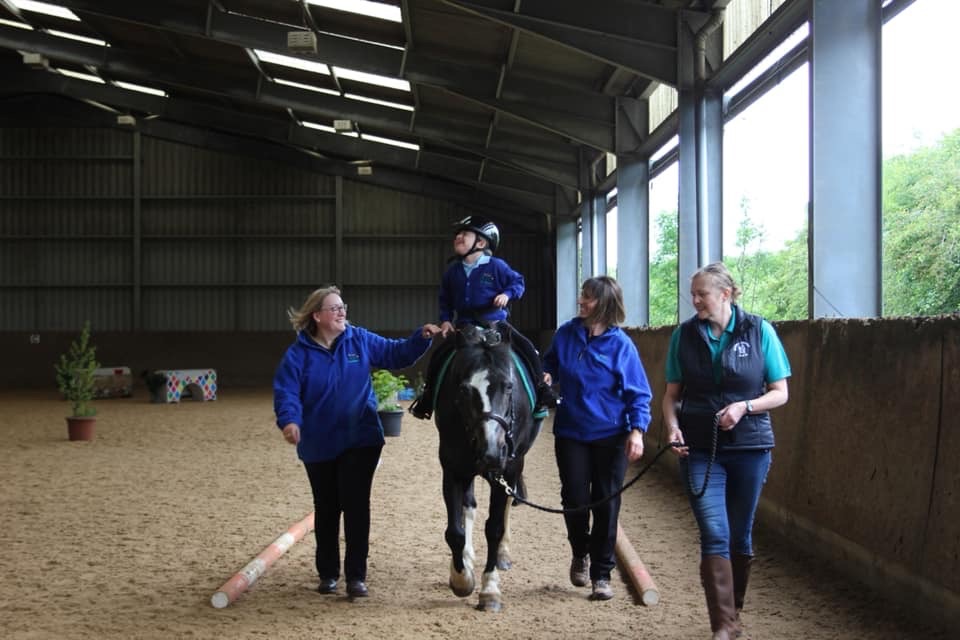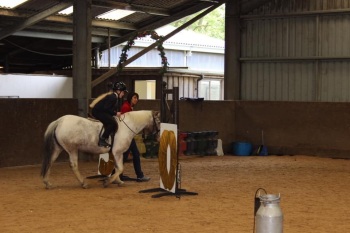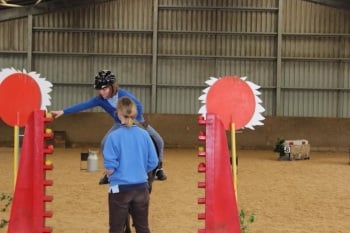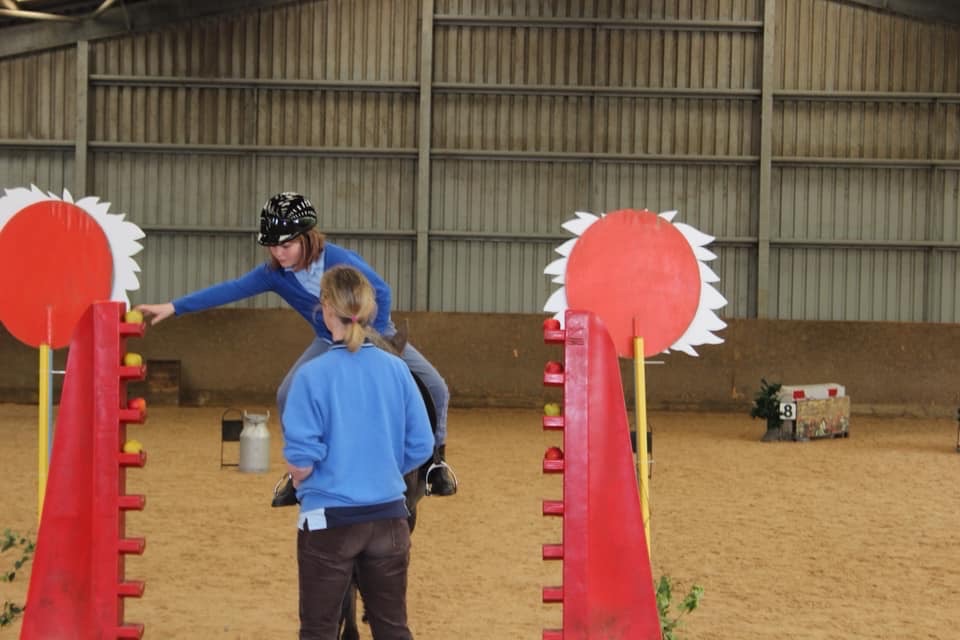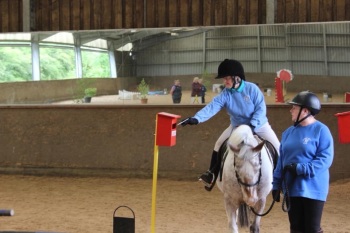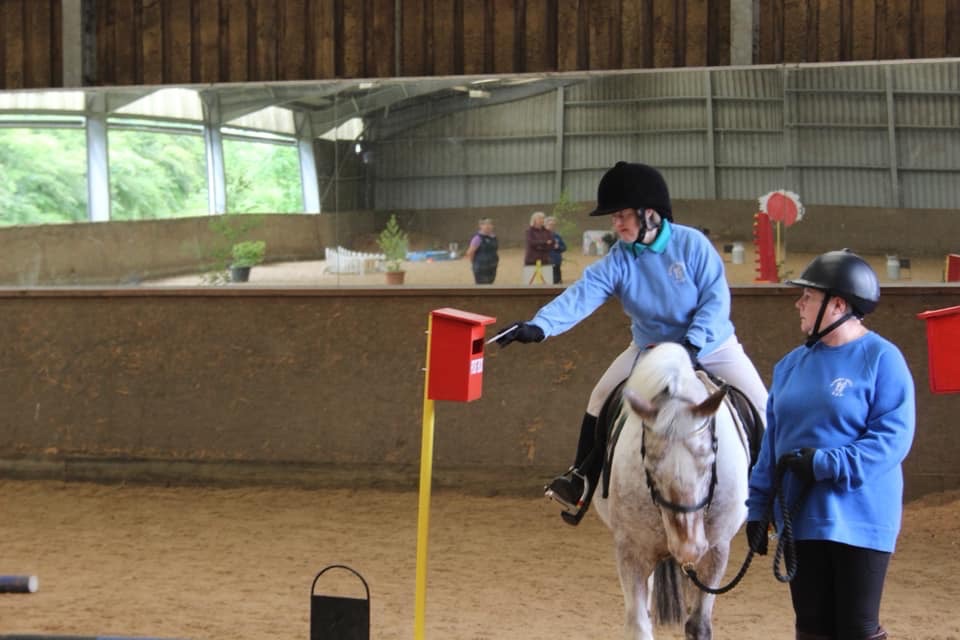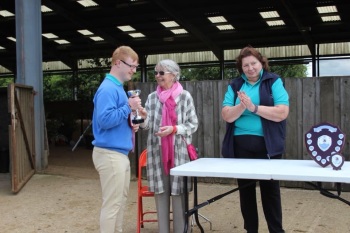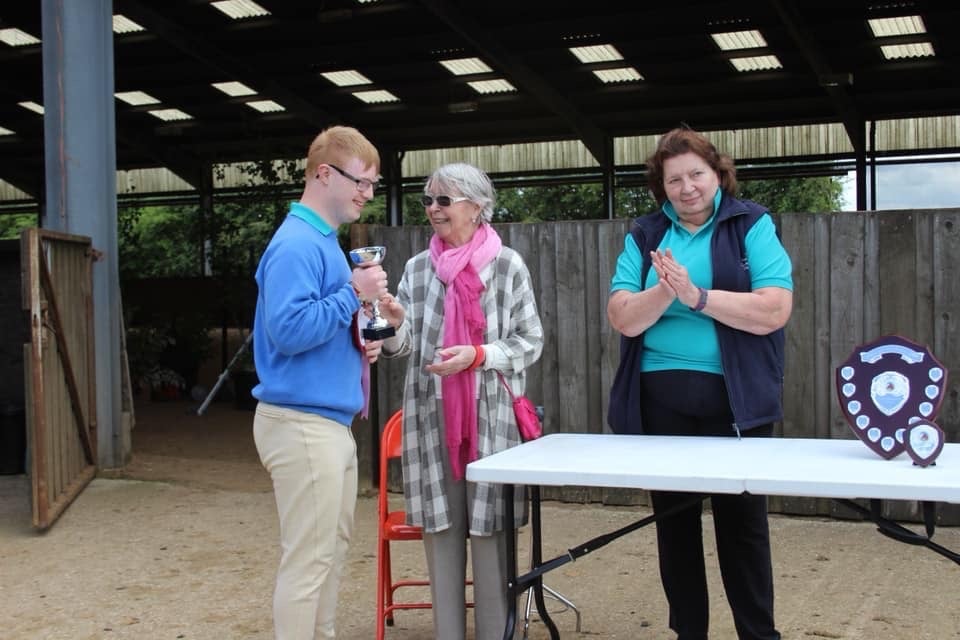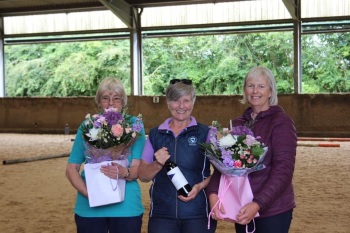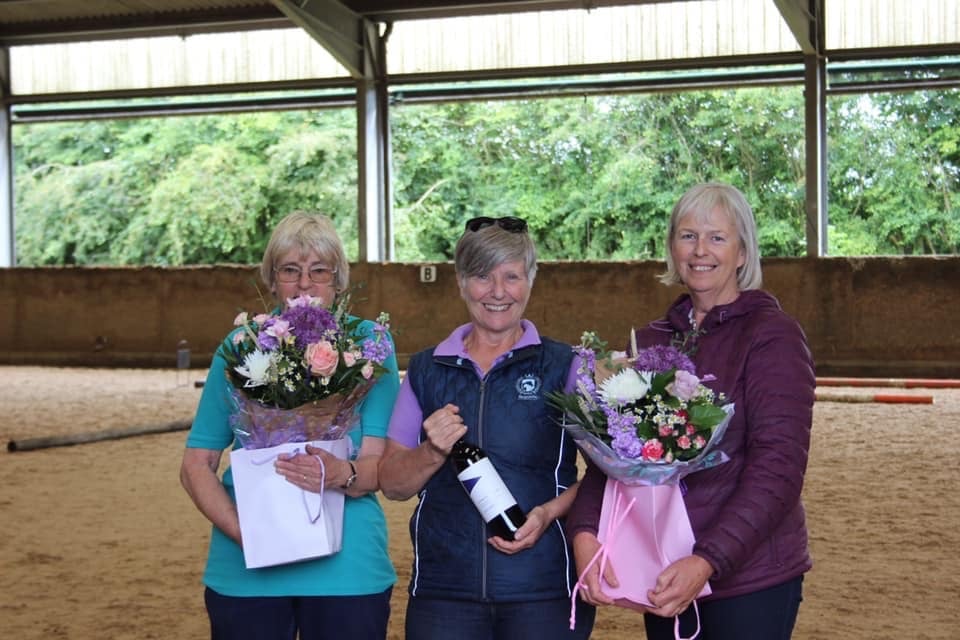 Rutland-Melton Cicle Classic - Sunday 28th April
Many thanks to Mount Group volunteers, friends and family who all sold cakes, programmes, clothes and mugs to raise funds at the Rutland-Cicle Classic on 28th April. The cyclists had a fantastic day and covered Oakham, Wymondham, Owston and Melon Mowbray. Again, a huge thank you to everyone who has helped and to the Cicle Classic for continuing to support and promote The Mount Group as their chosen charity.
The following photos are: Ex national Champion, Russel Downing, flying the flag for The Mount Group. Kay and her happy band of volunteers setting up the cake stall in Wymomdham and thank you to Pearce's jewellers in Oakham and Melton for supporting the Mount Group and Rutland Melton Cicle Classic. More information and photos can be seen on our Facebook page.
BBC Radio Leicester visits The Mount Group RDA

Big thanks to BBC Leicester for their great piece of filming and thank you also to Hazel for taking part in the interview. See the link to the clip, via the BBC Facebook page below.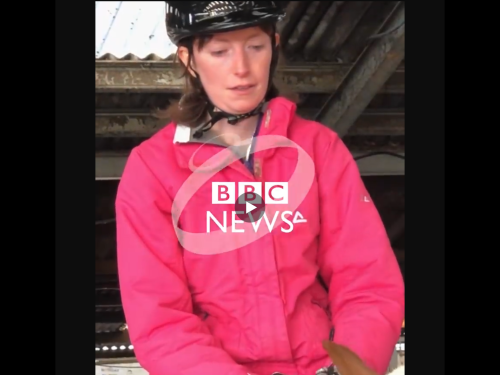 "I'm just an ordinary woman riding on a horse" - Hazel

The Rutland High Sheriff visited The Mount Group RDA
Early in June the Rutland High Sheriff, Sue Jarron, visited our group to find out a little more about our activities and how we operate. She had the opportunity of meeting our Group Organiser, Di Poyser along with several of our coaches and volunteers. She also had the pleasure of meeting many of our clients, both children and adults and of course all of the lovely ponies!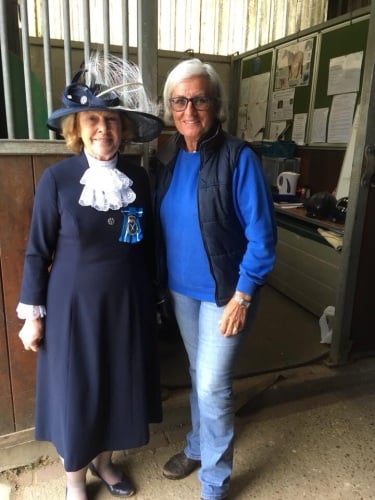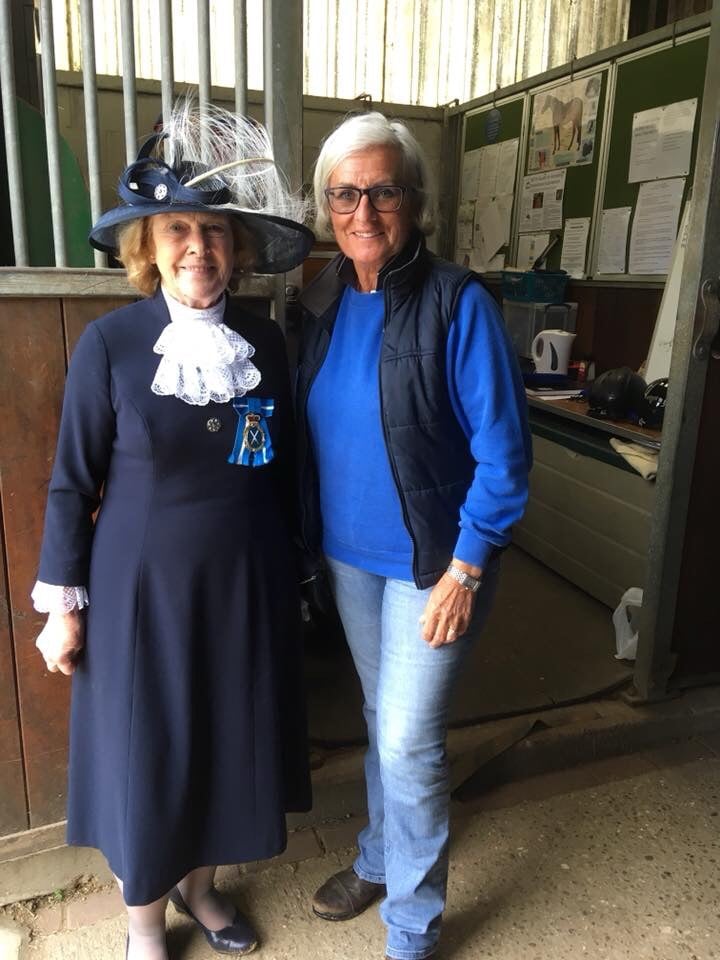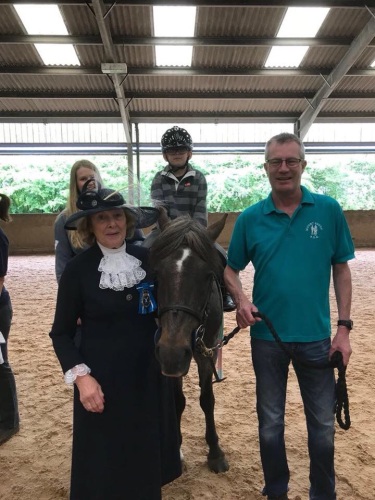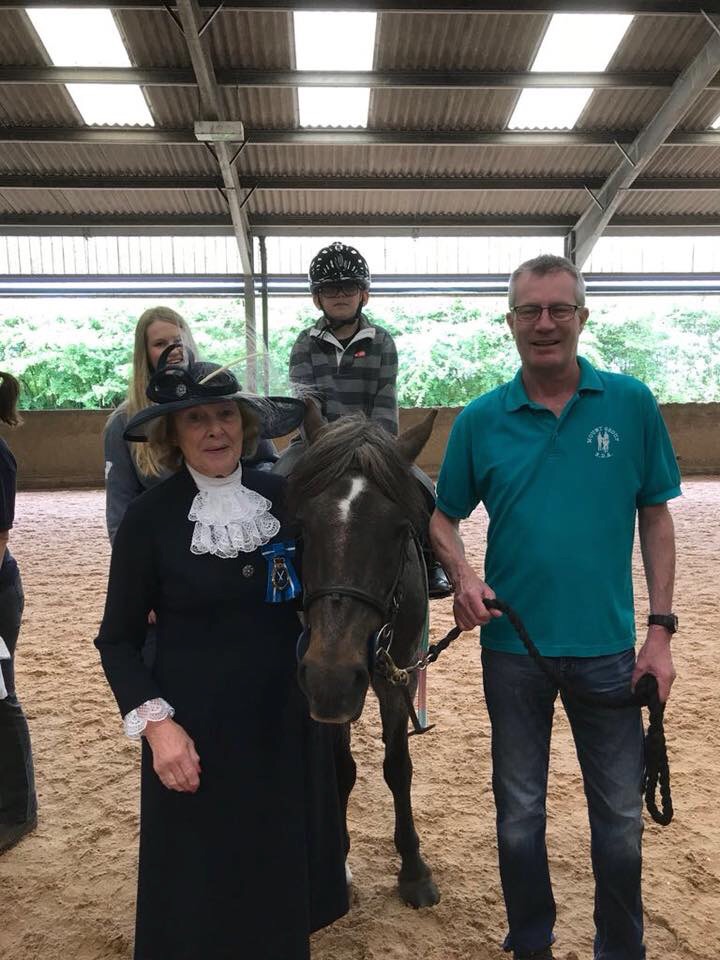 Rutland-Melton CiCLE Classic - April 2018
The Rutland-Melton CiCLE Classic have adopted The Mount Group as their chosen charity once again this year! On Sunday 22nd April, this one day international cycle race featured 180 cyclists racing over 180 arduous kilometers. After nearly 5 hours of racing Britain's Gabriel Cullaigh from Team Wiggins took the win in a 3 man sprint finish.
Mount Group volunteers raised over £500 thanks to the generous spectators at Oakham, Owston and Melton Mowbray. Donations were made for CiCLE Classic programmes and memorabilia, for the delicious array of cakes on our stall and from the sale of CiCLE Classic jerseys.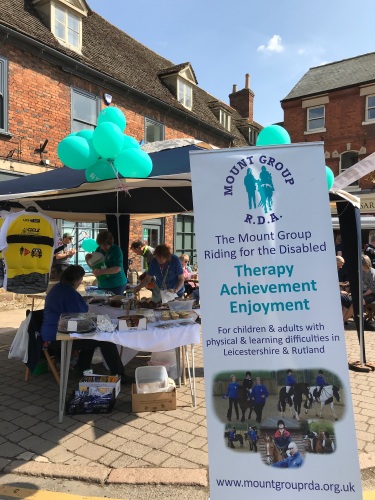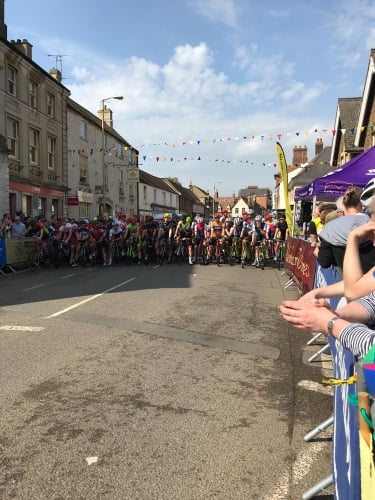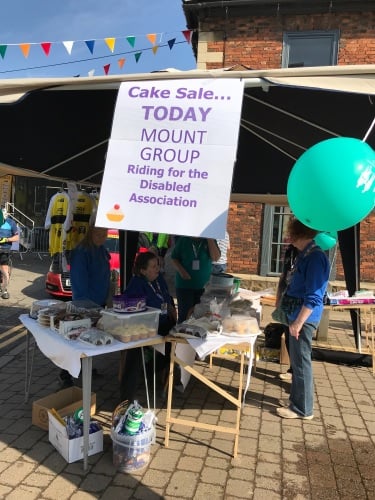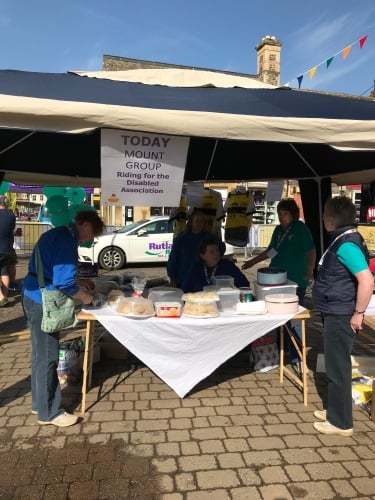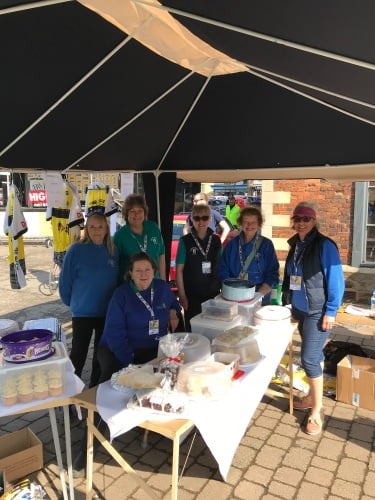 Melton Times Sports Awards - Feb 2018
Many congratulations to Christine Durrance and Tim Birley, who both recevied awards at The Melton Times Sports Awards. Both were finalists in the Disabled Sports Person of the Year category, for their achievements at The Special Olympics held in Sheffield, during Summer 2017. Christine won the overall category - a great result!!

Meet Jet - The Mechanical Horse
This handsome boy is Jet - an amazing simulator horse, who is now an established member of our team of horses and ponies. Jet stands at about 15 hands high and he comes complete with virtual reality TV screen - which simulates riding on a real horse through a range of different environments, such as riding through woods, along the beach or in an arena.

Jet has become an invaluable resource for our clients. The simulator is used for rehabilitation, confidence building and developing horse skills. It provides a safe way to practice before riding a real horse. For several clients, including those with brain injury, riding on Jet is the only significant exercise they can access. Riding Jet has the benefits of developing core strength, balance, stability and also provides three dimensional physiotherapy.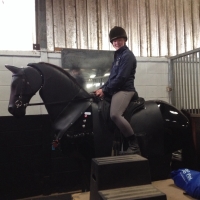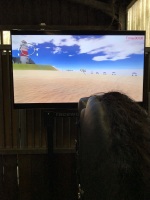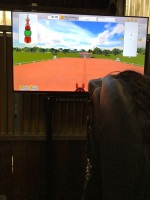 Special Olympics East Midlands Equestrian 2017
Mount Group RDA star at Special Olympics National Summer Games. Four Mount Group riders had a brilliant time in Sheffield an came away with some amazing results. See here for the full story in the Melton Times.
Hartpury 2015
All our riders did Mount Group proud at this year's national championships at Hartpury College (17 - 19 July 2015). Well done to you all - and a big thank you to the volunteers for all their hard work to make it possible. Full story courtesy of the Melton Times.
Oldies but goodies

Mizen and Lucky (and their handlers Christine Durrance and Simone Green) came 5th and 6th in the veteran class at Blaston Show in June. A good day was had by all with four riders from C of E in the our Handy Pony class, joined by four riders from Nottingham RDA Group. Thanks to all our volunteers for their help at the show.
Countryside Challenge 2015
Well done Jack and Billy who came third and fifth respectively in Class 2 at this year's Countryside Challenge regional qualifier, held at Sproxton on 11 May. Sadly we didn't get any qualifications for the nationals this year but it was a great effort by riders, volunteers and horses.
On course: Jack and Megan (above), Billy and Mizen (below)
Festive gang provides funding present
Di Poyser and team raised an amazing £1,600 for Mount Group at the 2014 Loughborough Santa Fun Run.
The next Loughborough Santa Fun Run and Walk is on 6 December 2015; please come and join us ... the more who take part, the more we make.
Christine Durrance has been awarded the North Midlands Volunteer of the year award. This is awarded yearly to volunteers for their commitment to RDA over the past twelve months in the North Midlands area which covers Leicestershire, Nottinghamshire, Lincolnshire, Derbyshire and Northamptonshire.


We entered Christine for her voluntary work with the Mount Group RDA over the past twelve months.


Christine is not only a riding member with the Group but she now volunteers to help look after the horses 5 days a week. She fetches them in, grooms, mucks out, cleans the tack and helps with the sessions Monday to Friday each week. This is mainly under the supervision of the staff at Somerby until an RDA Instructor arrives to take over.

We
really do not know what we would do without her help - our wonderful, dedicated, extraordinary volunteer and friend.
________________________________________________________
It's a win - win situation!

Sign up to www.givingabit.com and you can help us raise funds while you shop. Find out more on our new Donate here page

Donations and grants




We have received some extremely generous donations and grants recently. A very big thank you to:

Mars for their £2,000 donation; Oakham Town Council for a £500 grant for volunteer training; and an anonymous donor for £1,000 to meet the costs of our riders competing at the RDA National Championships at Hartpury in July 2014.
_______________________________________________________
Run Sue Run!
Congratulations Susanne Birley for successfully completing 12 Half Marathons / long runs in 12 Months in aid of Mount Group and Cancer Research UK.
Sue said: "Mount Group RDA is a charity that is very close to us as a family as my eldest son has Down's syndrome and rides with the Group. Tim really looks forward to his riding and from it has gained confidence and a real sense of achievement. Tim has been able to take part in several competitions and is extremely proud of the rosettes he has won. This only been possible through the hard work of the RDA and its volunteers."
Sue ran an amazing nine half-marathon road races, two 16-mile cross country runs and a half-marathon trail run, and has raised more than £2,100 so far.
You can still support Susanne in her fantastic effort here.